Shipping to
Egypt
Ivory Coast
Kenya
Mauritius
Morocco
Nigeria
Senegal
South Africa
Canada
Chile
Colombia
Mexico
Puerto Rico
United States
Australia
Brunei
Hong Kong SAR
India
Indonesia
Japan
Macao SAR
Mainland China
Malaysia
New Zealand
Philippines
Singapore
South Korea
Taiwan
Thailand
Andorra
Austria
Belgium
Bulgaria
Croatia
Cyprus
Czech Republic
Denmark
Estonia
Finland
France
Germany
Greece
Hungary
Ireland
Italy
Latvia
Lithuania
Luxembourg
Malta
Monaco
Netherlands
Norway
Poland
Portugal
Romania
Slovakia
Slovenia
Spain
Sweden
Switzerland
United Kingdom
Bahrain
Israel
Jordan
Kuwait
Lebanon
Oman
Qatar
Saudi Arabia
United Arab Emirates
Language
Added to your selection
You have been logged in successfully!
Product added to my selection
Removed from my selection
Need help?
APAC
Call us 10am - 7pm (HKT) Monday to Saturday, except public holidays in Hong Kong
Our packaging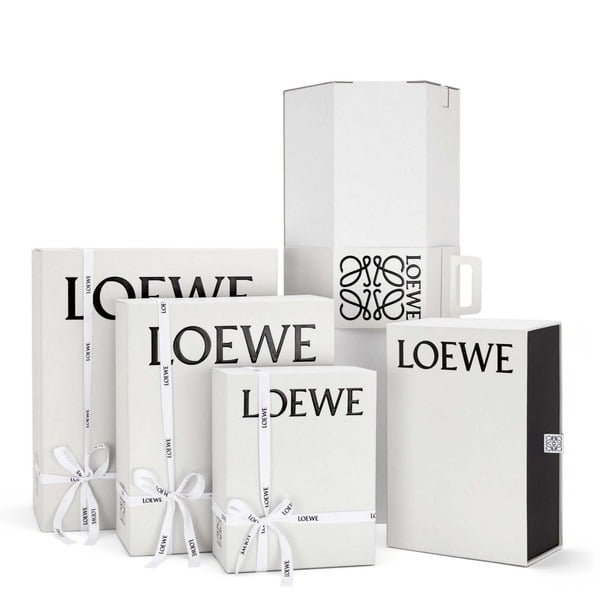 All purchases made on loewe.com will arrive in our signature monochrome packaging. You can also add a personalised card on your gifts.
Shipping lead times:
Europe
Spain (Mainland and Balearic Islands): 2-6 business days.
Andorra, Austria, Belgium, Bulgaria, Croatia, Cyprus, Czech Republic, Denmark, Estonia, Finland, Metropolitan France, Germany, Greece, Hungary, Ireland, Italy, Latvia, Lithuania, Luxembourg, Malta, Monaco, Netherlands, Norway, Poland, Portugal, Romania, Slovakia, Slovenia, Sweden, Switzerland, United Kingdom: 2-5 business days.
Asia, Middle East
Bahrain, Brunei, Hong Kong SAR, India, Indonesia, Israel, Japan, Jordan, Kuwait, Lebanon, Macao SAR, Malaysia, Oman, Philippines, Qatar, Saudi Arabia, South Korea, Singapore, Taiwan, Thailand, UAE: 2-7 business days
America, Oceania
Australia, Canada, Chile, Colombia, Mexico, New Zealand, Puerto Rico, United States of America: 2-7 business days
Africa
Egypt, Ivory Coast, Kenya, Mauritius, Morocco, Nigeria, Senegal, South Africa: 2-7 business days
Click & Collect
We offer the possibility to pick up your loewe.com order in the selected store of your choice rather than have it sent as a delivery. This service is always complimentary. You will receive an email confirmation when your order is ready to be collected from the store here.
Please visit the selected store within 15 days after this email is sent to collect your order.
How to return
Free returns are available within 14 days of your online order delivery date.
Simply contact us and we will help you with your return.
Please note that the items must be in re-saleable condition and that personalised items are non-exchangeable, non-refundable.
APAC
Call us 10am - 7pm (HKT) Monday to Saturday, except public holidays in Hong Kong
+852 25629980
Email us clientservices@hk.loewe.com
OTHER REGIONS
Call us +1 888 710 0009 toll free 10am- 7pm (EDT) Monday to Saturday
+44 2 074 991 284 10am - 7pm (GMT+1) Monday to Saturday
Email us clientservices_eu@loewe.com
How to change to another size or color
You can exchange your order within 30 days of your online purchase at any of our retail stores worldwide (except for department stores, outlets, wholesalers and franchises).
Simply check for a convenient option from our list of stores and their opening times. See complete policy here.
Please ensure that you bring the delivery note included with your package with you to the store.
Sending a gift
All items purchased as a gift are gift-wrapped on a complimentary basis, and include a personalised note that you specify when confirming your purchase.
Gifts are shipped in brand-free boxing and no price is included in the delivery documentation.
Items may be exchanged in retail stores within 60 days of the online purchase date.