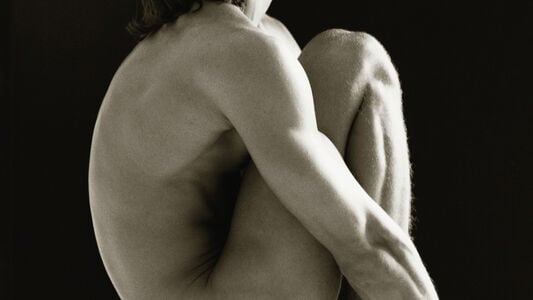 LOEWE Campaigns
LOEWE's advertising campaigns have proven to be a significant element in the rebrand of the Spanish house.
Each season, Creative Director Jonathan Anderson works with M/M Paris, Benjamin Bruno and Steven Meisel to create a series of unforgettable images.
All the campaign elements are examples of LOEWE's multi-faceted identity, related in spirit, singular in character. Together, they convey LOEWE's uniquely modern stance: fashion-driven, open to different approaches and inspirations, using ideas to connect past, present and future.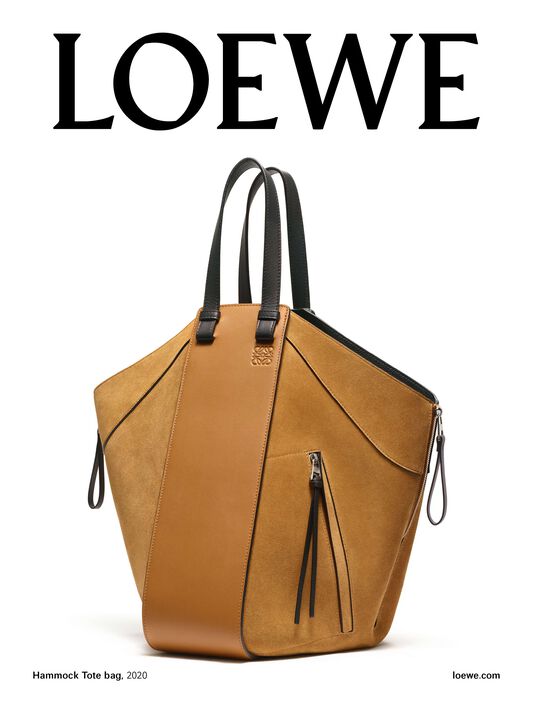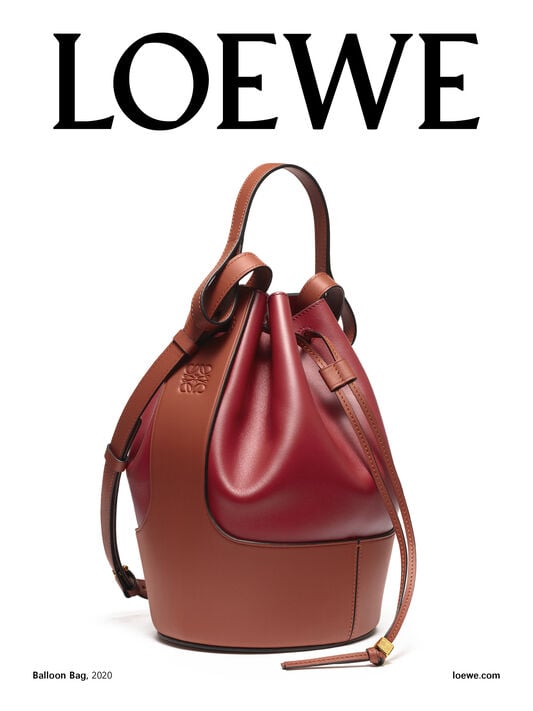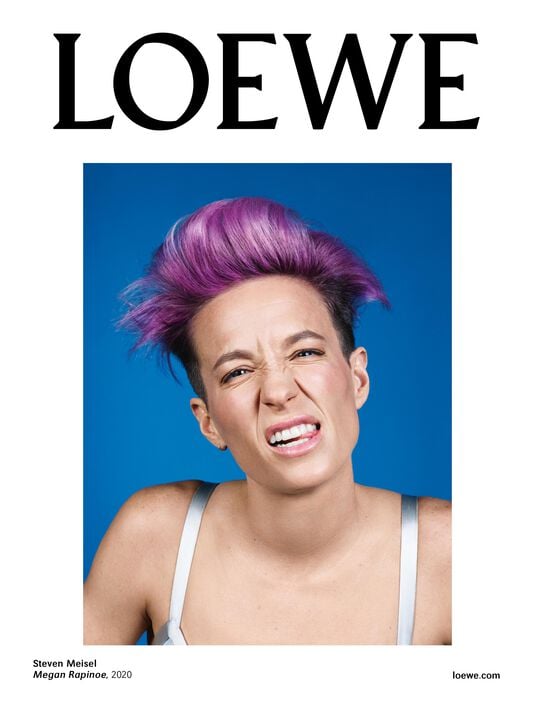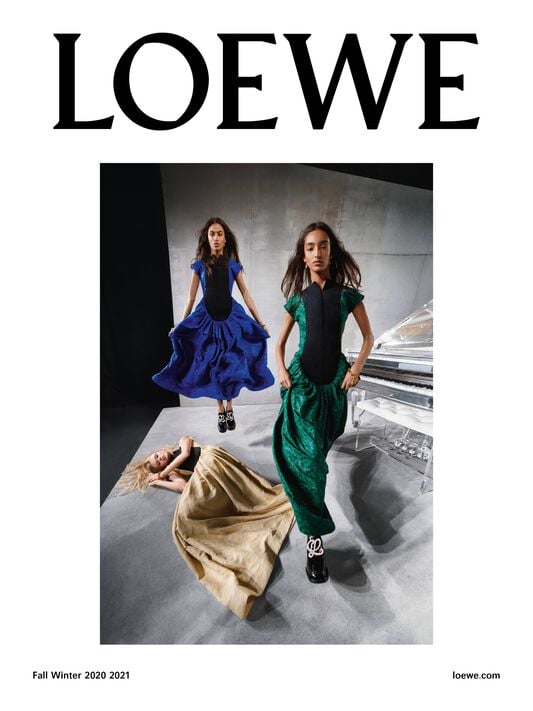 Fall Winter 2020
An idea of extreme distortion as a synonym of life, movement and energy ran through the triptych of campaign images presenting the FW20 collections. The character image featured a headshot of American athlete and activist Megan Rapinoe, captured by Steven Meisel. Rapinoe's face is distorted, baring her teeth, shouting, inviting the viewer to react.
The fashion images each saw three models with identical hair and variations of the same look captured in a performance-like situation evoking experimental theatre. Their dynamic moves across a distorted grey set were shot with a wide-angle lens to enhance the sense of spatial confusion. Stark depictions of Puzzle and Balloon bags with evident folds and creases suggested that the bags had been manipulated: already lived-in.
Spring Summer 2020
A celebration of ambiguity, incongruity, drama and mystery – embedded with a message of support for speaking out in turbulent times – unified the triptych of campaign images presenting the SS20 collections. Character images featured individual portraits of British actors Charlie Heaton and Jodie Comer, captured by Meisel in intimate moments backstage, both preparing mentally for their roles, either onstage or off.
Taken from a series titled A Show of Hands, accompanying images of a tattooed fist grasping a clump of earth and manicured hands manipulating synthetic slime both improvised on a symbol of popular protest. Meanwhile still-life images of Grand Puzzle Bag in bold rugby stripes paid homage to that most earthy of sports, and Lazo Mini Bags exhibited seductive new shades of leather.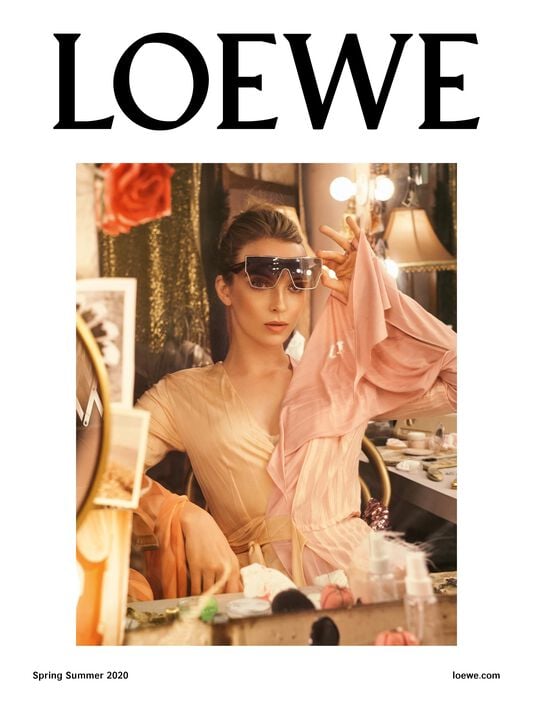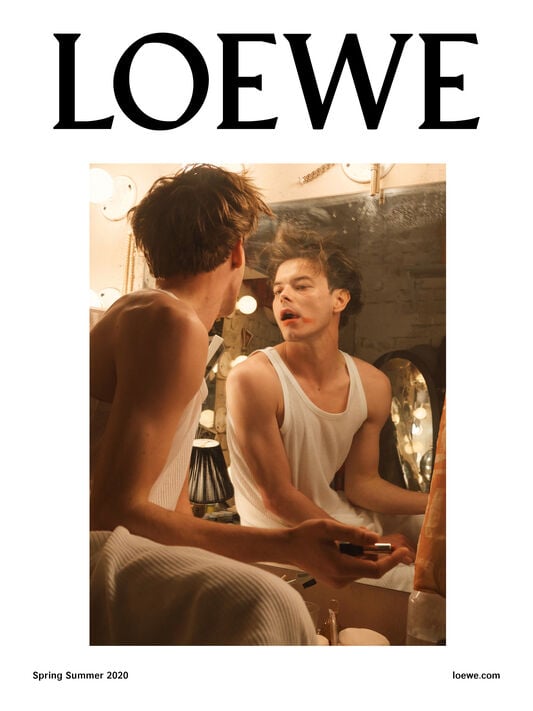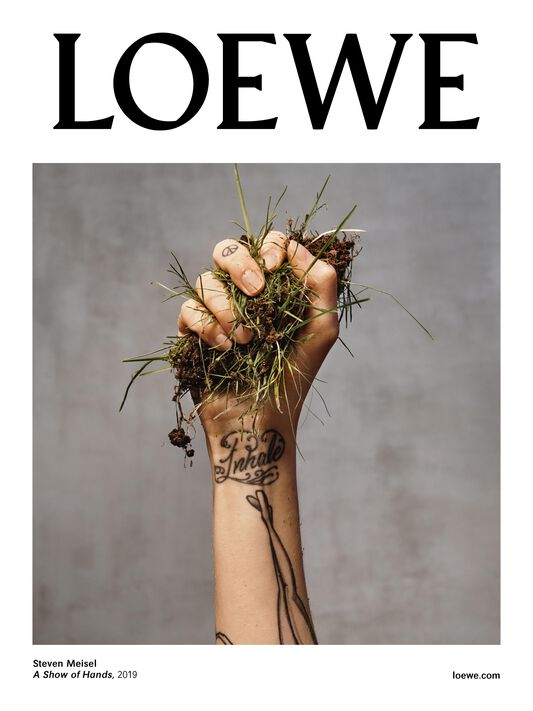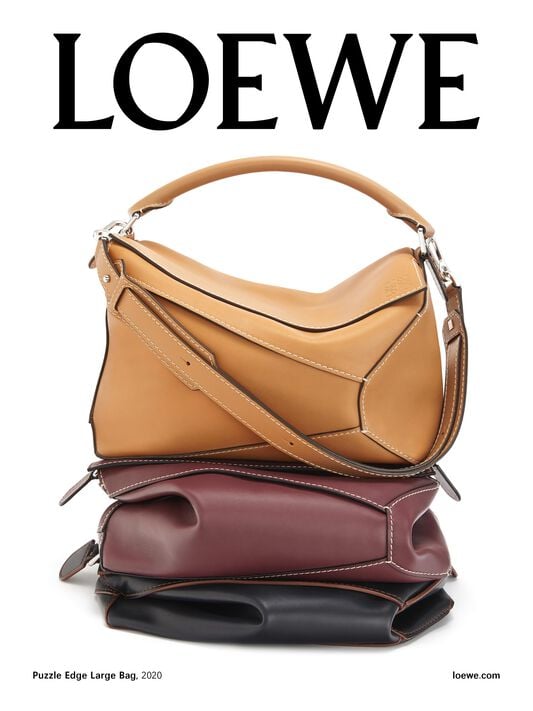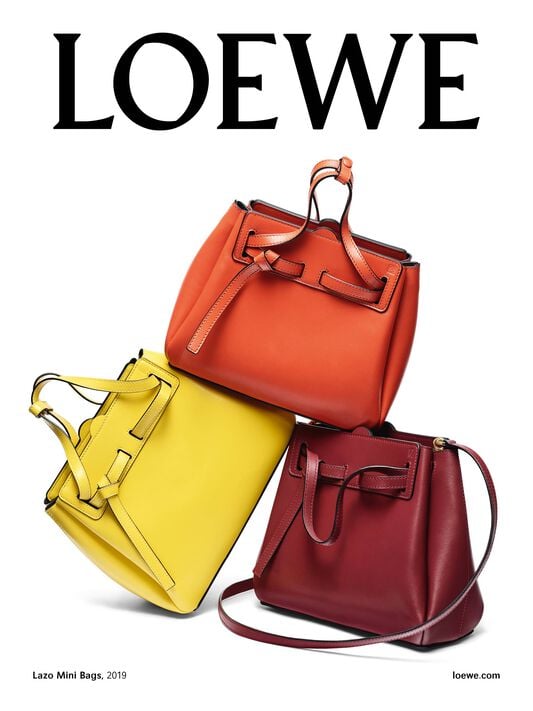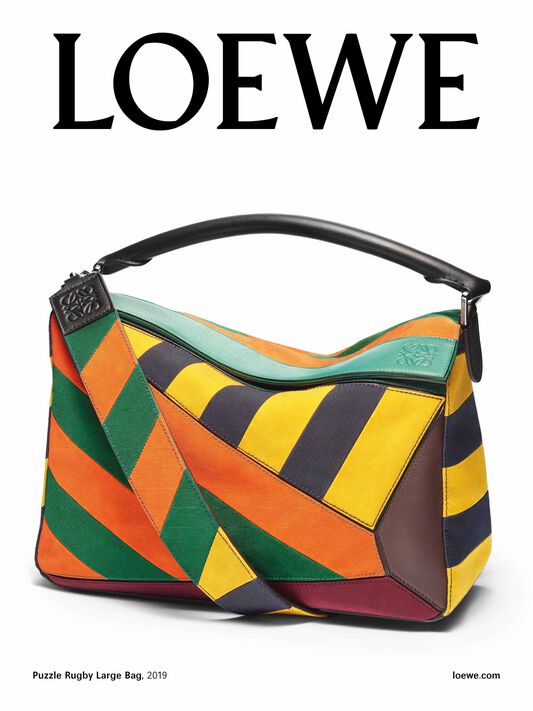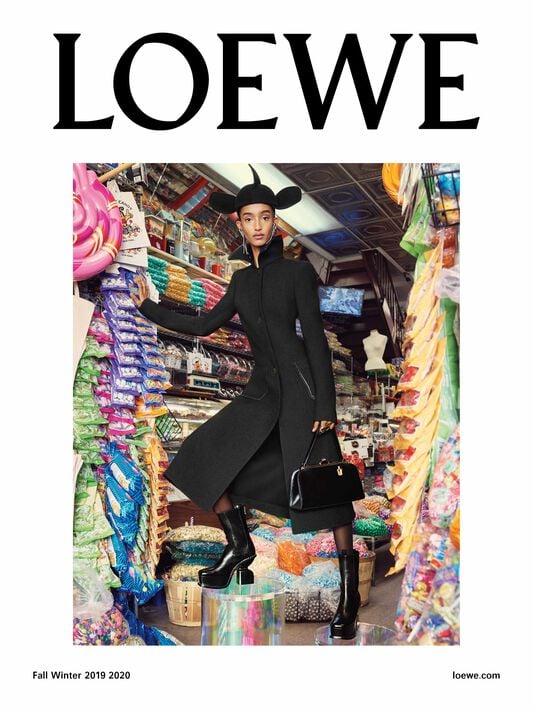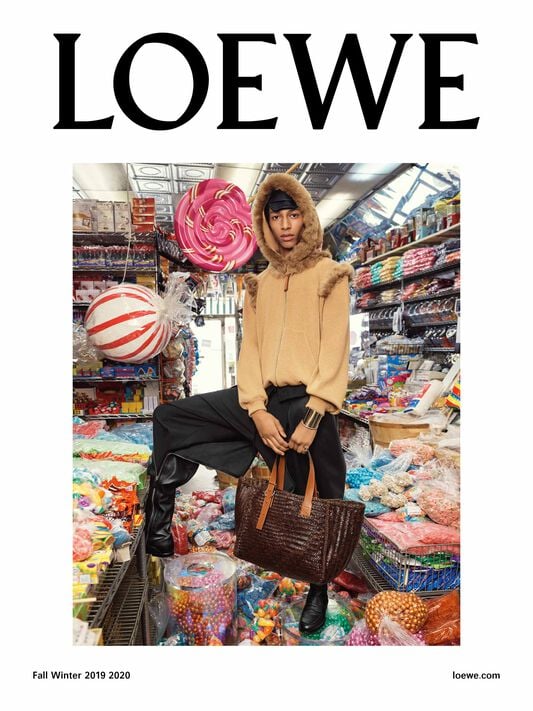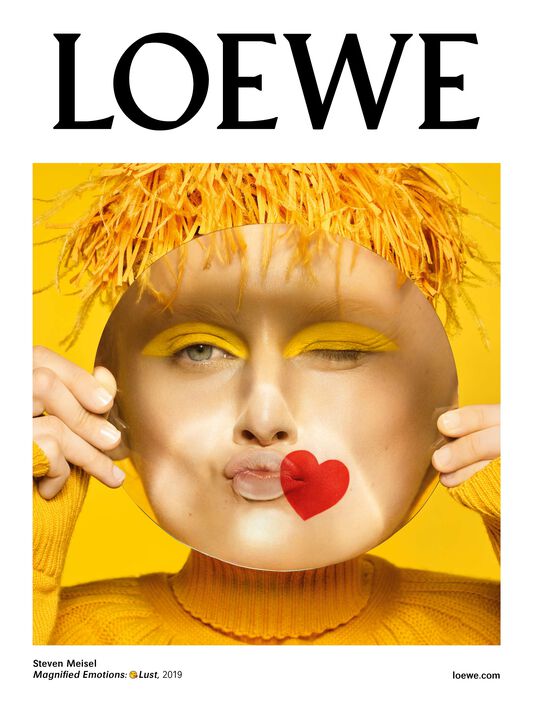 Fall Winter 2019
Emotions and the iconography of emoticons inspired the triptych of images presenting the FW19 collections. Continuing his collaboration with LOEWE, Steven Meisel captured character portraits of model Julia Nobis in attitudes of 'Lust', 'Anger', 'Hysteria' and 'Despair' with her face refracted through the lens of a giant magnifying glass, as part of a series entitled Magnified Emotions.
For the fashion images models Mona Tougaarde and Yasmine Jaajoui were pictured in an overflowing candy shop, their strong silhouettes emphasised by the playful setting of giant peppermints and rolled rock sugar popping behind them. Similarly emphasising the exquisite craftsmanship of the season's bags by way of contrast, the Lazo and Oro bags were shot against a spare white background.
Spring Summer 2019
Subversively questioning what it means to create pictorial representations, both of the self and of others, informed the triptych of images presenting the SS19 collections. Steven Meisel depicted models Oscar Kindelan and Nora Attal as younger incarnations of the photographer himself – his persona recognisable from their garments, poses and hair: thought-provoking images that invited a closer examination of impersonation and projection in portraiture.
Also shot by Meisel, against artificial and evocatively-staged backdrops of a Spanish seaside port scene – itself inspired by the photographer's oeuvre – models including British actor Josh O'Connor were captured wearing the nautically-inspired styles of the season. Meanwhile still-life arrangements of Gate Grid bag and the Gate bag family, shot by Adrien Toubiana and Thomas Cristiani, completed the triptych.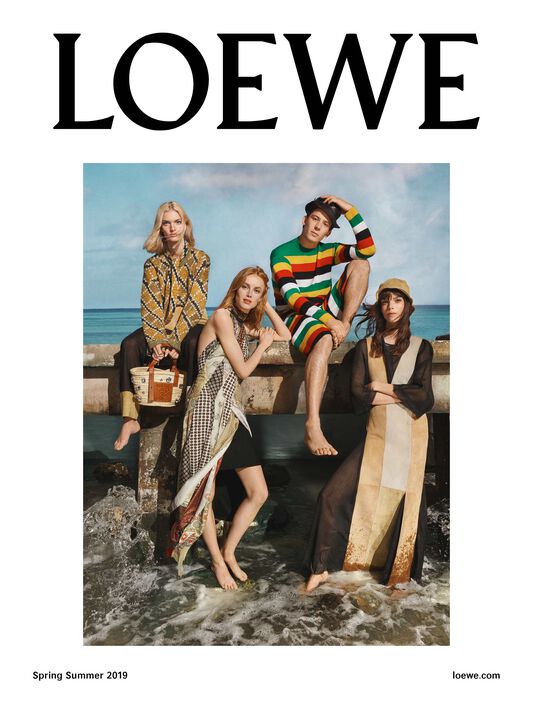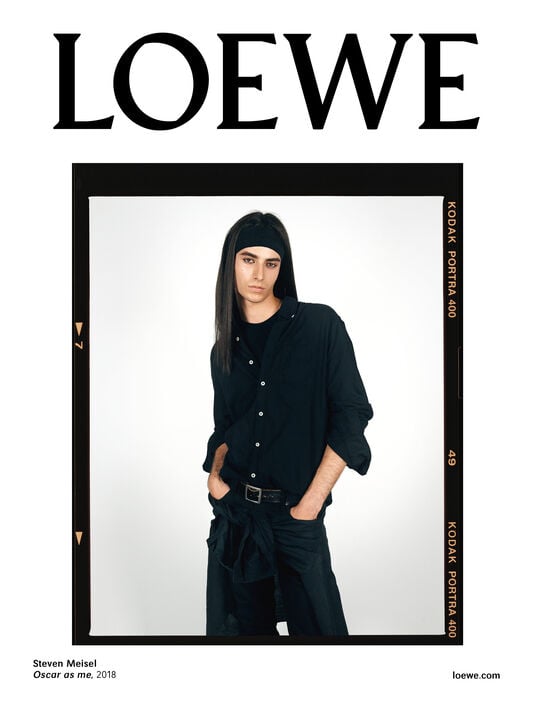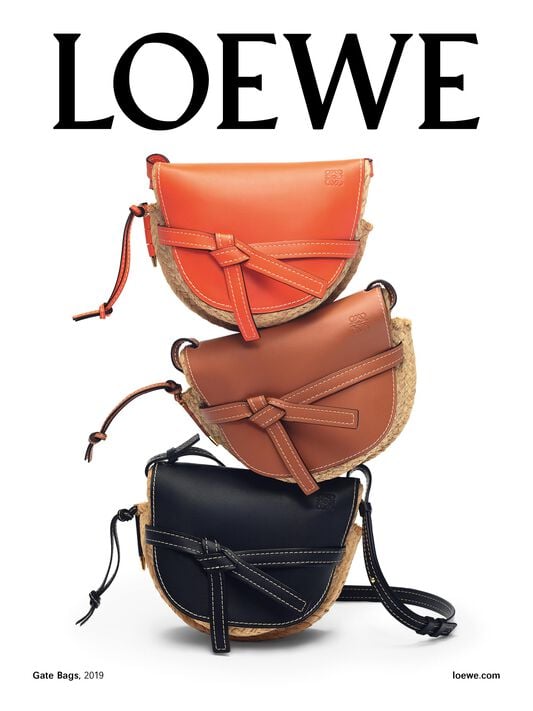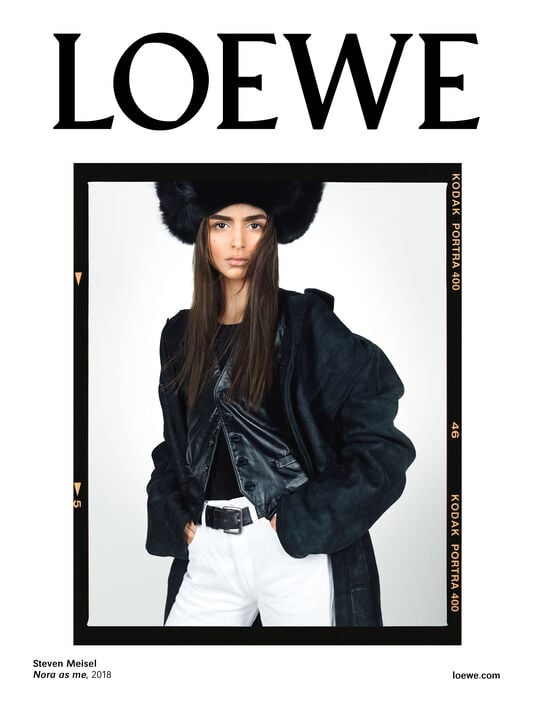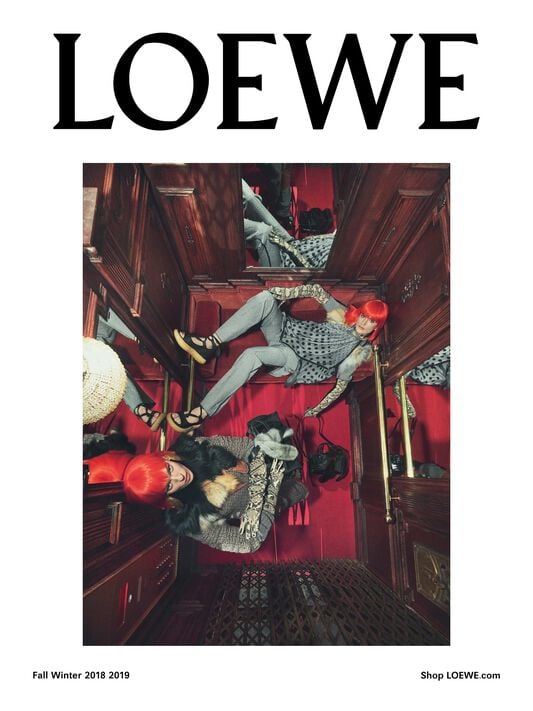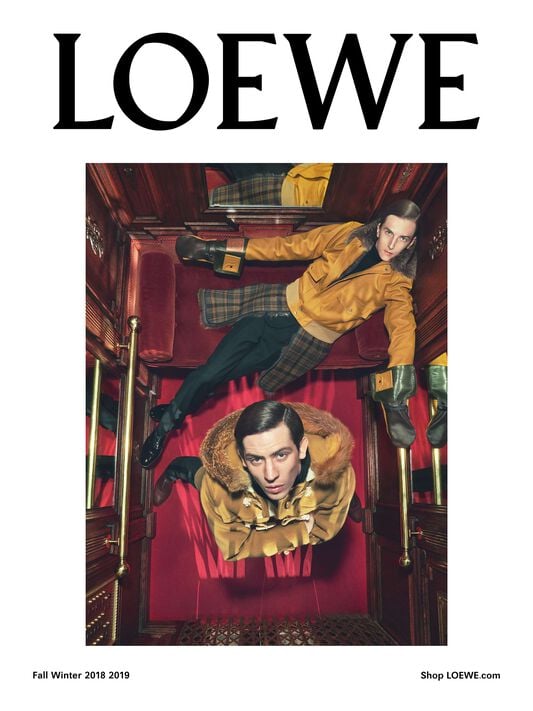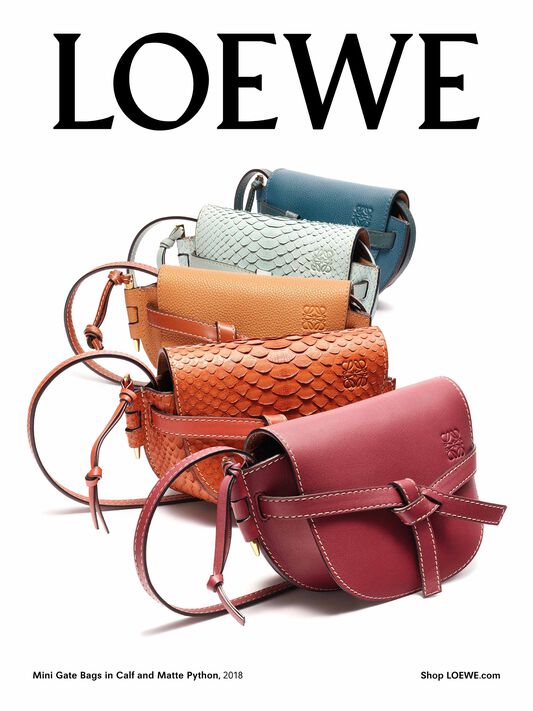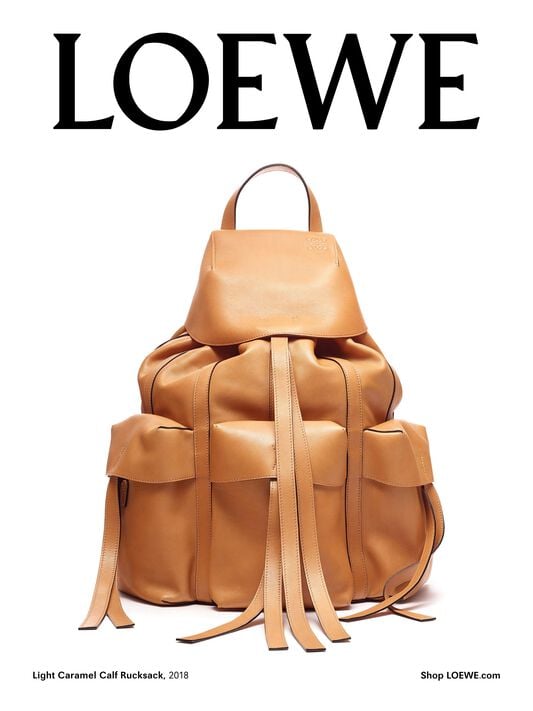 Fall Winter 2018
Dislocating concepts of old and new and thereby probing the relevance of fashion's imagery to the time in which it is made was the key theme of the SS19 campaign. Representing another stage in his ever-evolving partnership with LOEWE, Steven Meisel photographed British actor Josh O'Connor and model Stella Tennant each reading special LOEWE-published editions of literary classics, with book-covers featuring archival Meisel images.
The fashion images saw Tennant and model Elise Crombez in a cinematically inspired scene shot from above, trapped in an old elevator, both wearing matching red wigs and variations of the same look that echoed the mirrors of their setting. Meanwhile a tactile depiction of LOEWE's iconic Gate bag completed the triptych.
Accompanying the campaign, works from a series by Meisel entitled 'Compositions', depict disparate objects laid out on a transparent table in front of a painted cloudscape, suspending the distinction between reality and illusion.
Spring Summer 2018
A luminous new realism was heralded by the triptych of campaign images that presented the SS18 collections. Captured by Steven Meisel, our models were pictured balancing from the frame of a geometric structure—visuals that gestured towards the moment's freshness and frankness of spirit.
Shot alongside the campaign, Meisel's 'Fruits' is an original series of five portraits featuring Italian model Vittoria Ceretti holding various fruit in her mouth, a modern interpretation of the long-standing subject of depicting fruit in art. Neither symbolic nor literal, the images feature mangosteen, pomegranates and melons in striking compositions that point evocatively to notions ranging from taste, nature and biology to disguise, artifice and desire.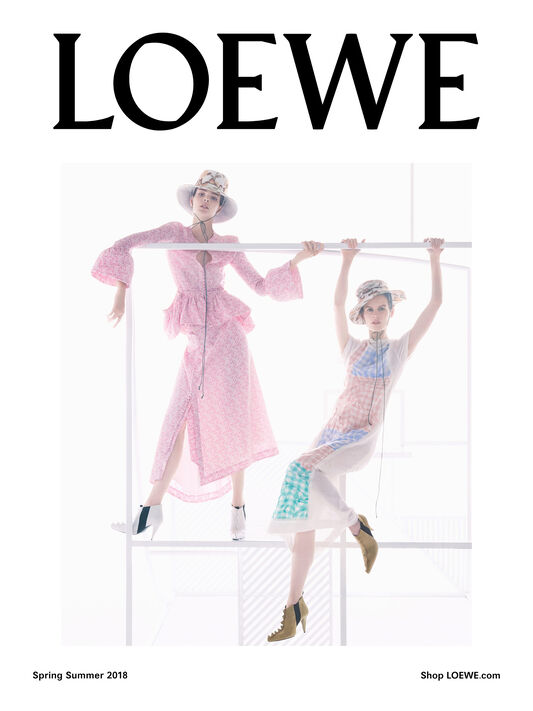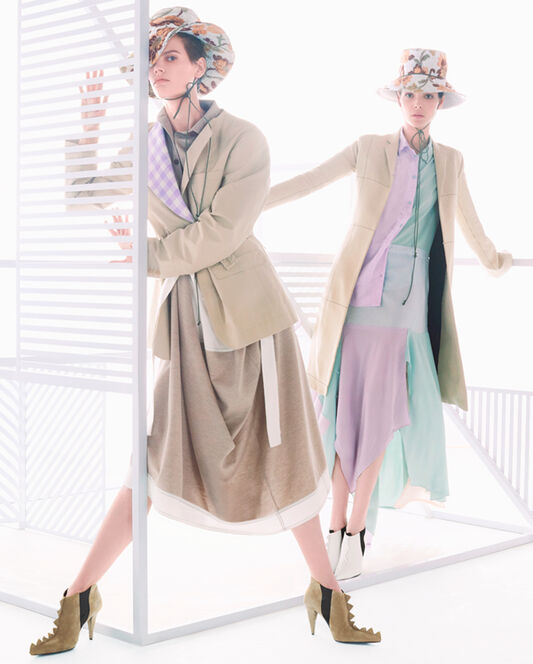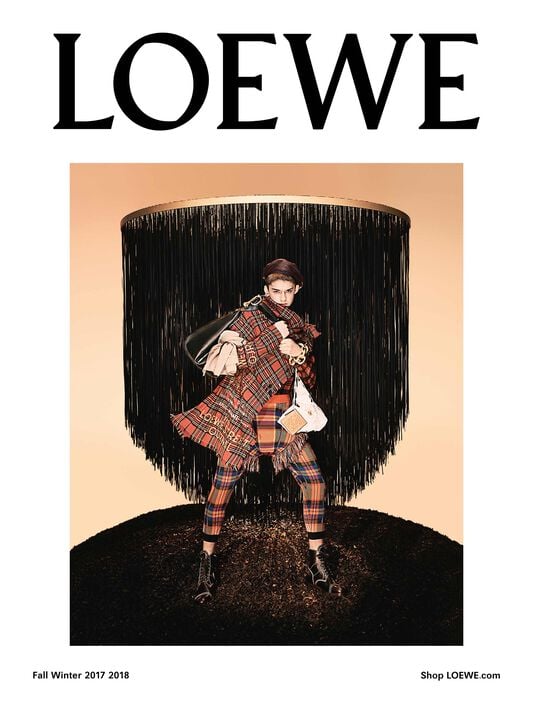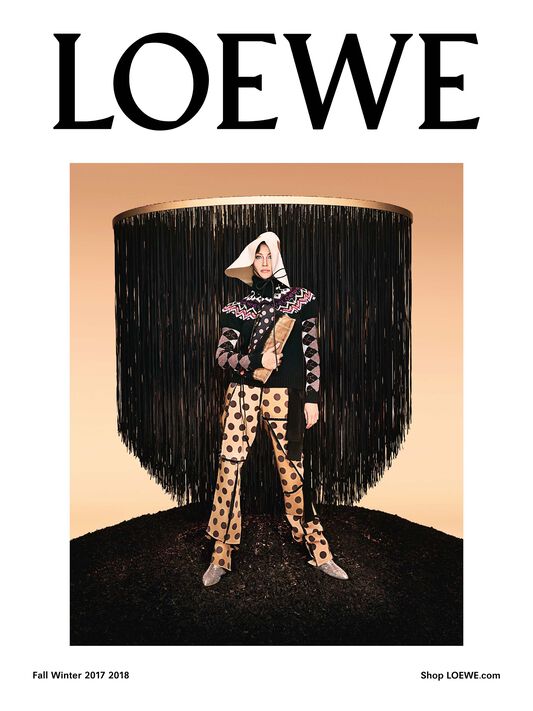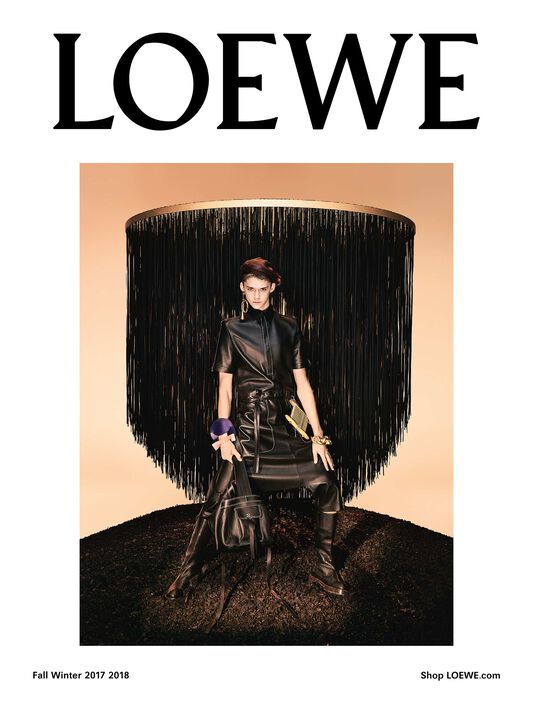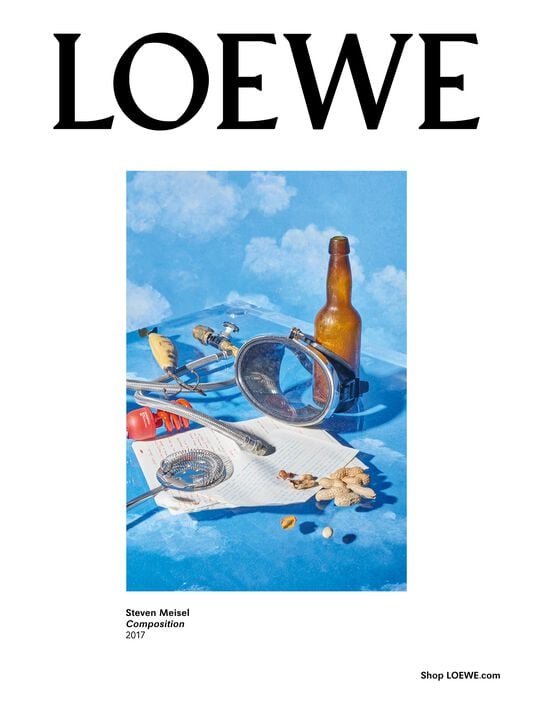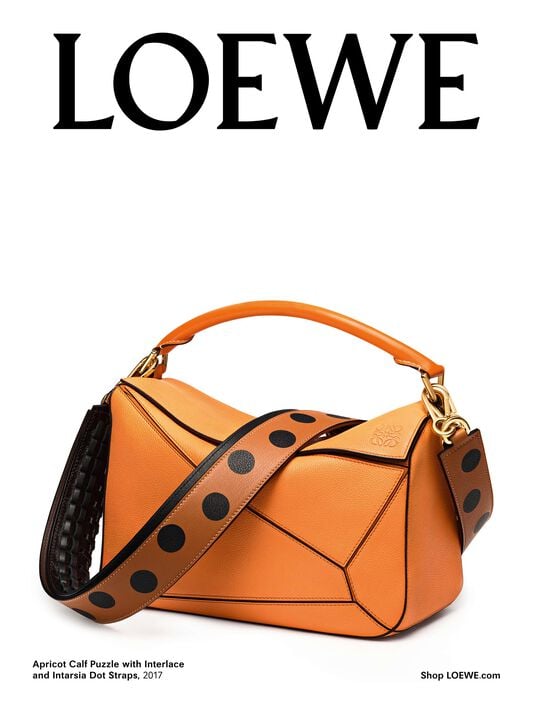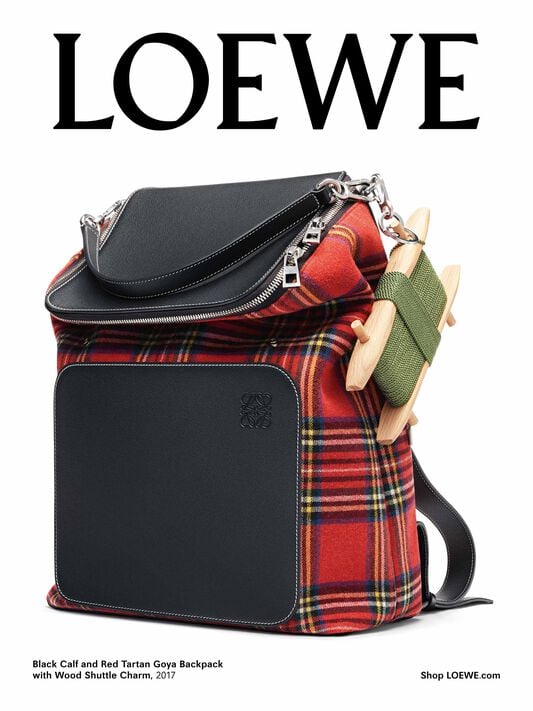 Fall Winter 2017
The surreal power of drama, glamour and illusion ran throughout the campaign images of the FW17 collections. Photographed by Steven Meisel against a set of over 9000 silk ribbons, suspended to create a black 'cloud' designed by M/M Paris, models Gisele Bundchen and Max Overshiner were captured in languid poses wearing the season's black leather and tartan-animated styles. A close-up portrait of Bundchen wearing the dramatic 'Toast' hat added to the sense of playfulness.
A still life image by Meisel titled 'Flowers', depicting a vivid bouquet arranged in a golden vase, was included in a limited edition calendar. Meanwhile images of the Lantern bag submerged in gold paint, and the Puzzle bag animated with a sky motif, completed the triptych.
Spring Summer 2017
Exploring notions of control and the loss of control, the campaign images for the SS17 collections extended the special collaboration between LOEWE and Steven Meisel. Supermodel and actress Amber Valetta was captured in dramatic motion against a spiral of ropes, her body contorted in a manic attempt to regain stability, while model Jackson Wakefield appeared against the same set in more submissive state of thoughtful repose.
Images from Meisel's series of intriguing floral still-lifes, inspired by Constance Spry – the pioneering 19th C British florist and educator – resonated with the theme of control and cultivation in art and nature, were joined by stark shots of Joyce bag and Goya weekender.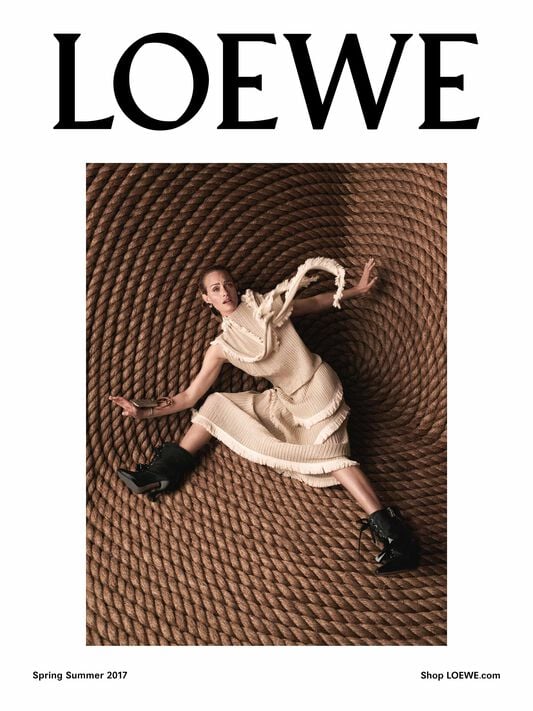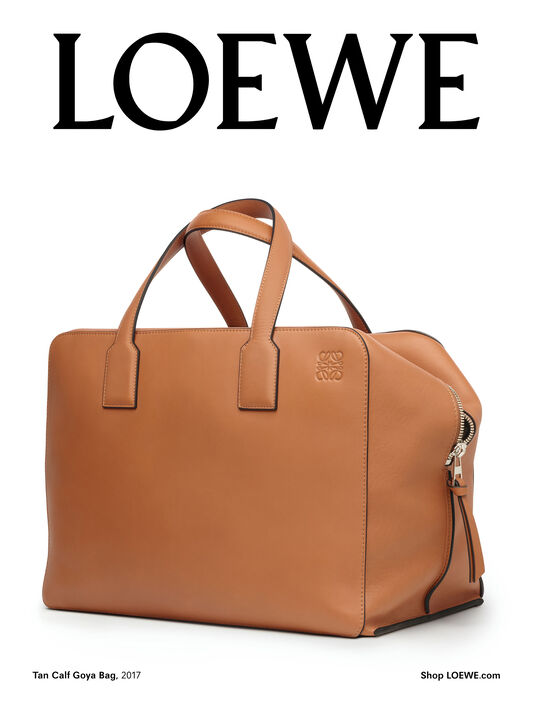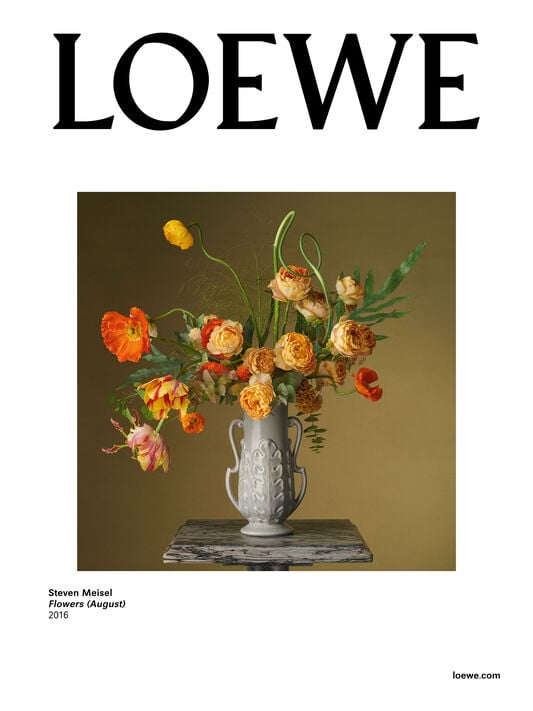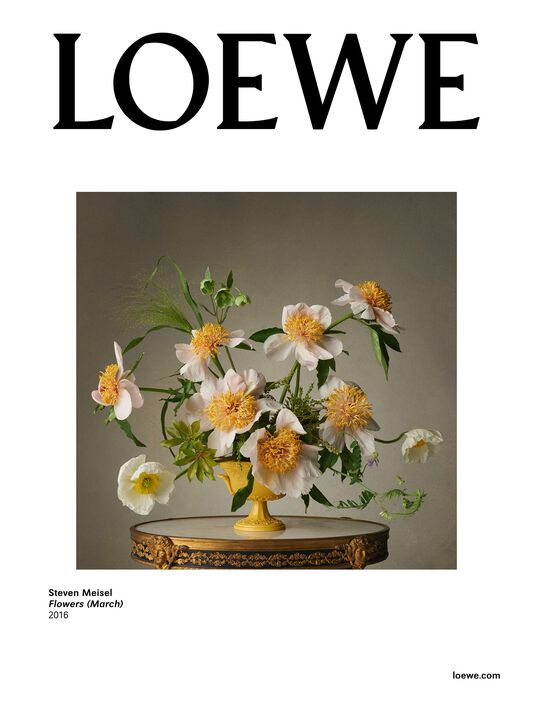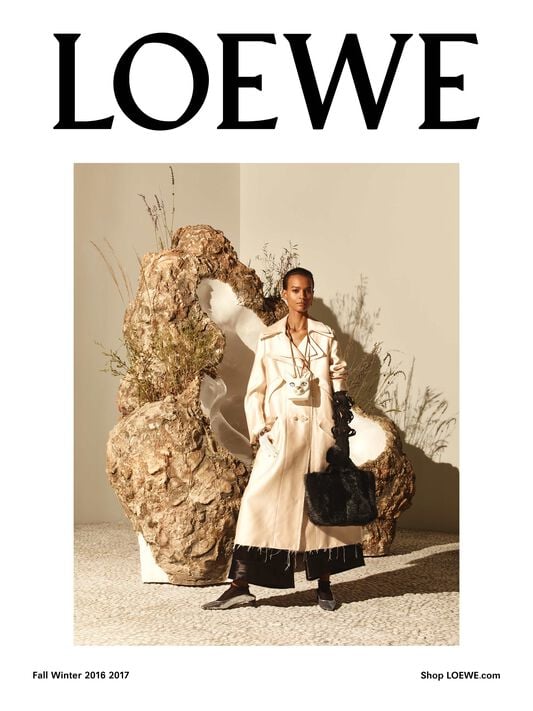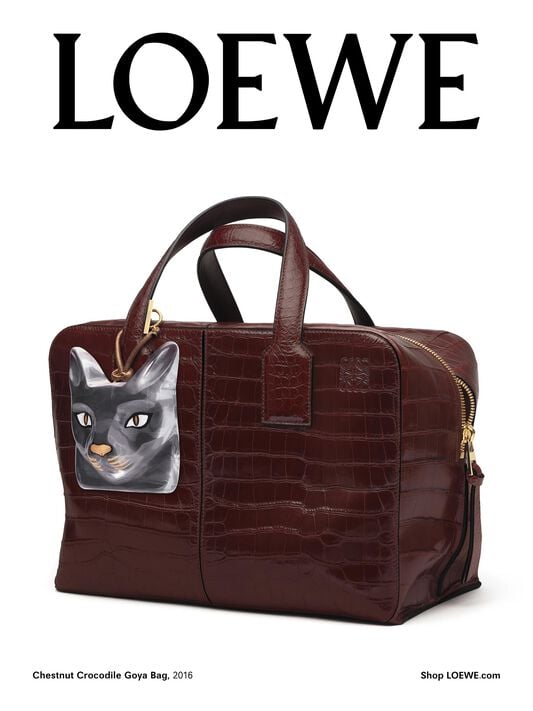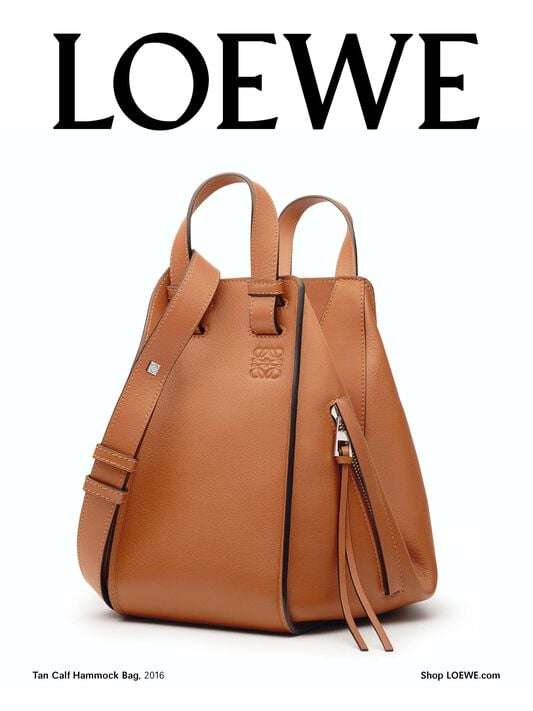 Fall Winter 2016
Evoking LOEWE's innately multi-faceted character, juxtaposed themes of self-contemplation, redefining normality in classics and pointing firmly to the present day were woven through the campaign presenting the FW16 collections. Styled by Benjamin Bruno, models Jackson Wakefield and Liya Kebede were captured against an amorphous and enormous sculpture by M/M Paris, with alternating rough, iridescent and polished sections reflecting the rich textures and organic character of the collections themselves.
An exclusive work selected by Steven Meisel was at the centre of the campaign: a classically posed male nude with head cropped out, taken from his series titled A Closer Look. This representation of reflexive self-contemplation by the photographer was contrasted by images of Goya bag with a playful painted cat pendant.
Spring Summer 2016
Raising timely questions around representation, portraiture and reproduction, and in a gesture towards the special connection between himself and LOEWE under Jonathan Anderson's direction, Steven Meisel created an original Self-Portrait (number 4 of an on-going series) for the SS16 campaign. The photographer re-photographed a monochrome image of himself from his personal archives, wearing a trademark black t-shirt and jeans.
Models Marc-André Turgeon and Raquel Zimmermann were captured by Meisel, styled by Benjamin Bruno, against a set that manifested an abstract evolution of Mount Fuji, designed by M/M Paris to evoke the house's bold aesthetic while hinting at the Japanese references that ran throughout the collections. Meanwhile, stark images of the Optical frames glasses competed the triptych.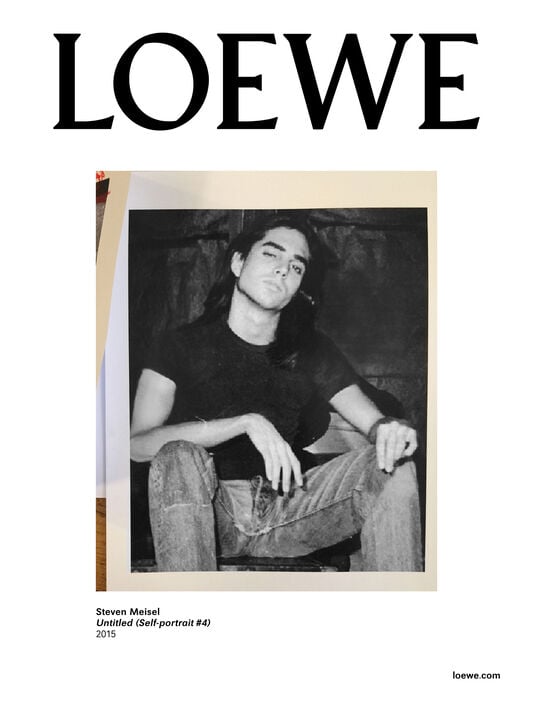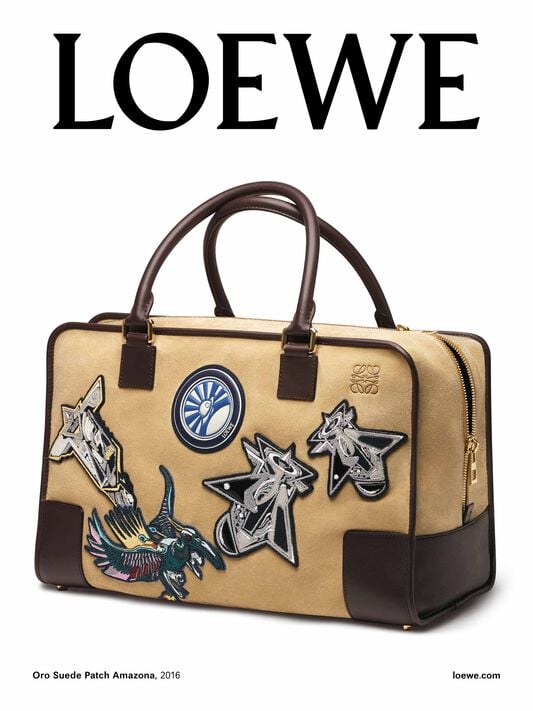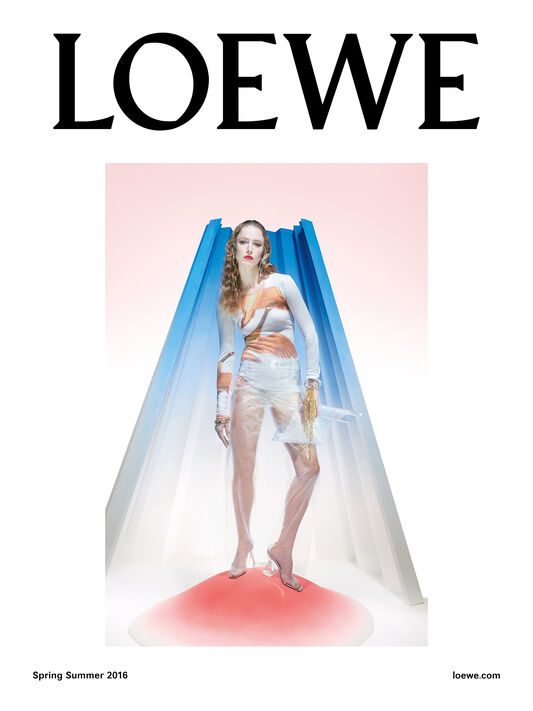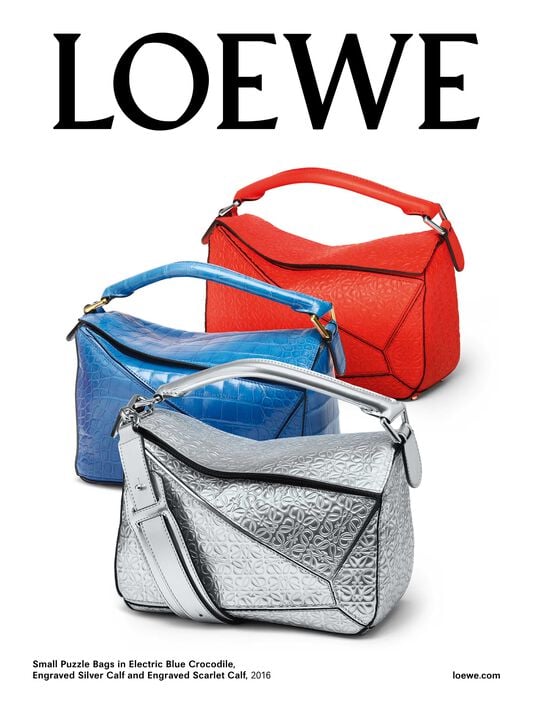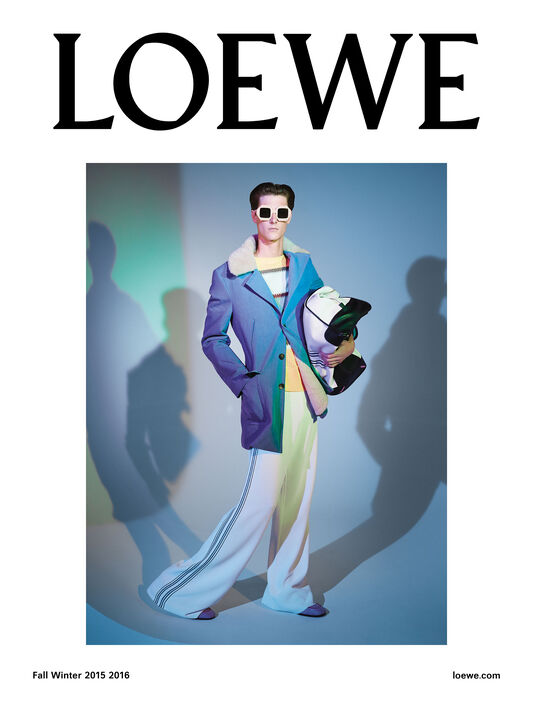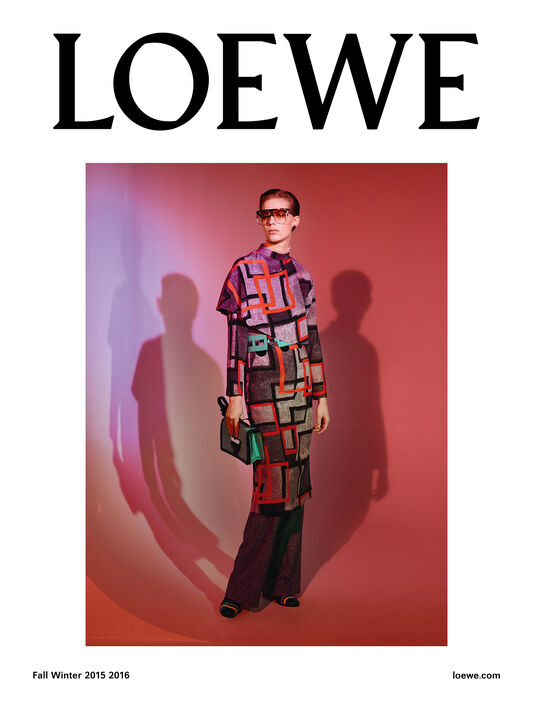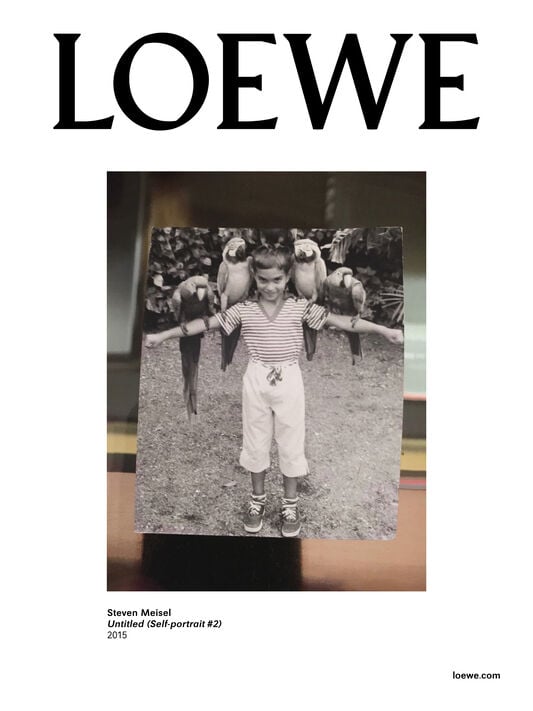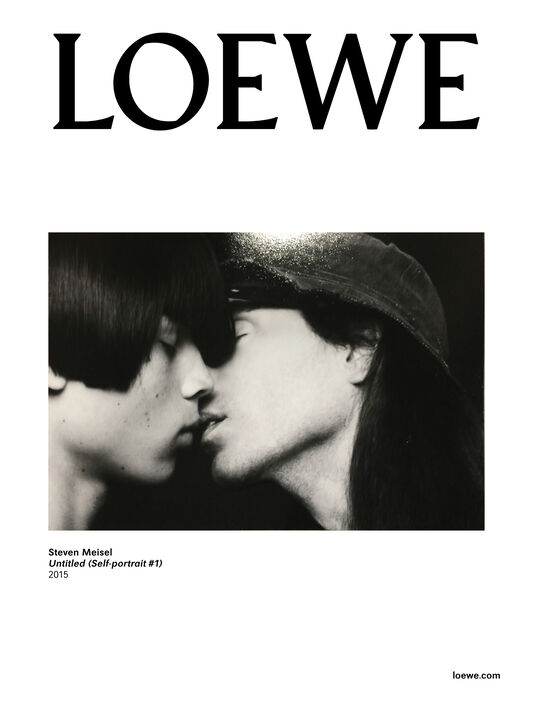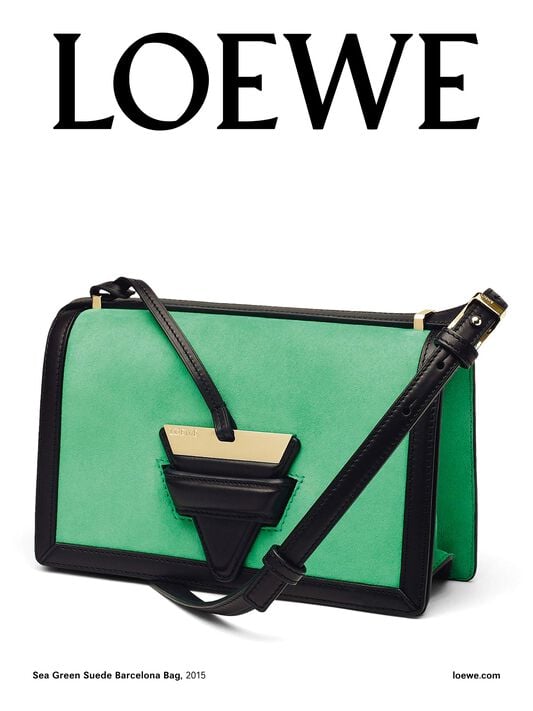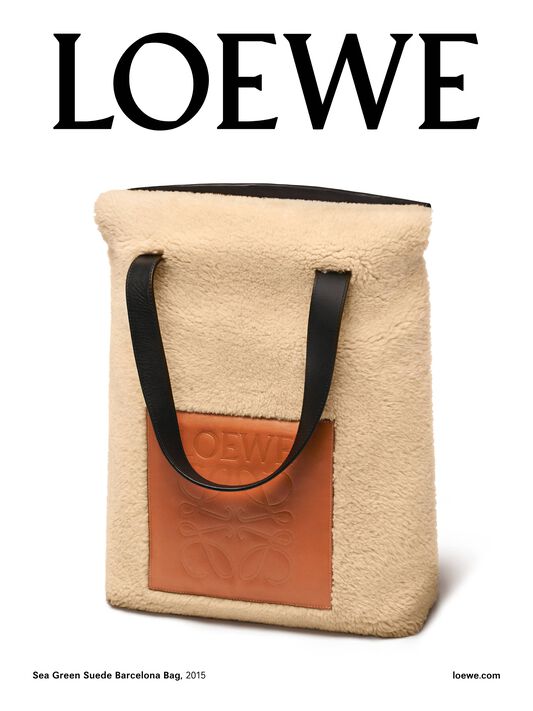 Fall Winter 2015
Manifesting Jonathan Anderson's desire to activate diverse visual documents in reflection of his multi-faceted vision for LOEWE, previously unseen self-portraits by Steven Meisel lead the triptych of images for the FW15 campaign. In this way, by embedding the personal archive shots of the photographer, Meisel's personal history as an artist who has been instrumental in shaping the fashion landscape became inextricably entwined with the rich history of LOEWE.
Photographed by Damien Ropero, descriptive shots of the season's key pieces, including the X-Cross travel series, completed the triptych.
Fall Winter 2014 / Spring Summer 2015
Dissolving codes and defining new patterns was the key theme of the campaign spanning FW14 and SS15, as Jonathan Anderson arrived as creative director and the house reconfigured itself around a new, nascent framework harnessing contemporary culture and craft. To coincide with Anderson's first LOEWE presentation, Meisel's iconic images were paired with newly commissioned work by the photographer: archetypal black-and-white silhouettes styled by Benjamin Bruno.
Carefully composed still-lifes of archival items highlighting LOEWE's heritage – including a century-spanning collection of bronze stamps used to engrave leather – provided a juxtaposition to the hyper-descriptive shots of key pieces from Anderson's new collections. The campaign was conceived by the design agency M/M Paris, launching a collaboration between these four creative powerhouses that has continued ever since.