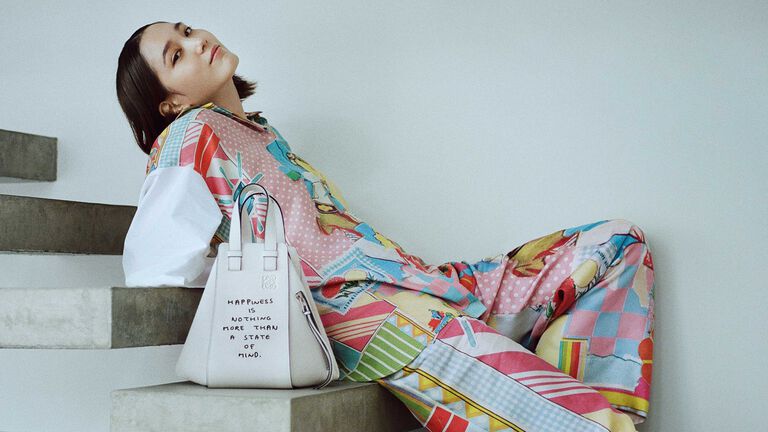 "Pursuing fulfillmentwith balance"
Interview with Tsubasa Honda
In the past year, Tsubasa Honda has realised her passion for gaming by producing her very own app. Her first experience as a creator has led to the discovery of new values, including the importance of building relationships and navigating unexpected challenges. With a focus on managing her time and energy efficiently, Tsubasa pursues a fulfilling life at work and at home—a balance that for her, equals happiness.
"The hurdle of honesty"
This was your first venture into the world of app production. What were the joys and struggles of leading the creative process?
Having my designs take shape as characters and seeing them come to life for the first time on the screen was very moving. On the other hand, one of my biggest challenges as the executive producer was having to manage the project as a whole, including the finances, while directing the production.
When your ideas differed with others, how did you find effective ways to communicate your opinions?
In the past, I hadn't placed so much importance on making myself understood while considering multiple points of view. Constructive conflicts and honest discussions were not my strong suit. It was the hardest part, but I learned and grew the most from this experience.
Did the project teach you anything new about yourself?
Mostly that being true to yourself is important, but it can be stressful. If you are unsure of who your true self really is, I think it's enough to have one thing you confidently enjoy. I had times when I was puzzled about who I am and my role, but I realised that the confusion is part of the process and I was finally able to accept my reality. When I travelled to London alone, I had to be independent in ways that weren't required at home. I realised all the things I used to take for granted because I have such a strong support system around me. In the end, all these experiences have made me infinitely more confident.
"Efficiency is of utmost importance to me"
How do you find the balance between passion projects, work and the pressures of daily life?
I care greatly about making the most of my time, so I'm always coming up with ideas to make things more efficient. For example, I always try to be as decisive as possible. I want to enjoy the time I can spend at home. By using my energy efficiently, I can truly relax in my own time. For me, pursuing fulfillment in both aspects of my life is what leads to true happiness.
"I want to be reckless while I still can"
In an age of uncertainty, how has your attitude towards work changed?
I used to be unable to act without a goal. I would lose focus on what I was working towards. But when I realised I didn't have a specific goal or imagine what my 30-year-old self would be like, I decided to spend the time I have now to look for things that truly excite me. Age is not important, but I know that there is a momentum that I can take advantage of in this particular time of my life. That is why I want to push forward, to keep challenging myself.
Explore Tsubasa's edit of FW21 Hammock bags and accessories.
Discover her favourites
Discover more
See the FW21 Hammock collection and explore the rest of the story featuring performer Mari Natsuki and professional surfer Shino Matsuda.