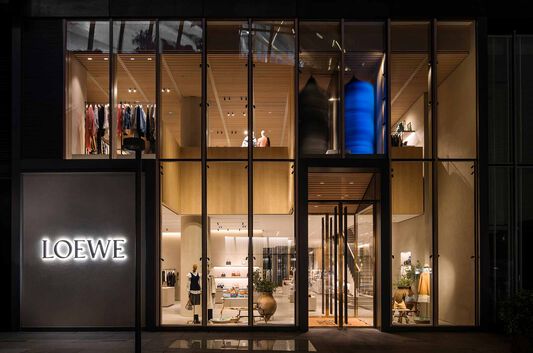 CASA LOEWE Beijing
Designed by creative director Jonathan Anderson and aligning to the CASA LOEWE retail concept, it follows in the footsteps of our Madrid and London flagships. Beijing's Sanlitun neighbourhood was chosen for its central location at the heart of the city's contemporary fashion scene.
CASA LOEWE forms the foundation for all LOEWE stores. A place of luxury, intimacy and culture, CASA LOEWE is designed to evoke the townhouse of a sophisticated art collector, where LOEWE products are interspersed with pieces of art, craft and design from LOEWE's growing art collection.
Alongside carefully curated furniture and light sculptures, the Beijing store includes the hand-dyed 'Excuse Me for Living' tapestry by American artist Josh Faught whose work was also exhibited at CASA LOEWE London, a mixed media shelving unit by Yuji Agematsu, and a car wash brush sculpture by Lara Favaretto that formed part of the Spring Summer 2019 Women's fashion show. Each element is carefully placed to add a sense of discovery as people move through the space.