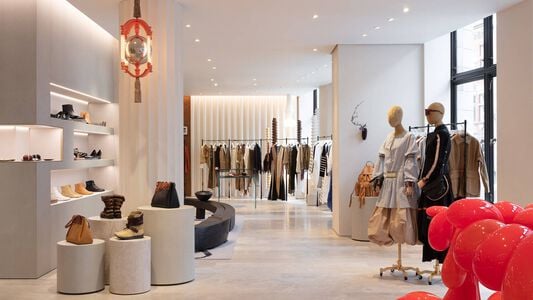 Welcome to LOEWE
Founded in Spain in 1846, we're approaching 175 years as one of the world's major luxury houses.
From our humble beginnings as a leathermaking collective to becoming a leading global brand, our journey has always been defined by an obsessive focus on craftsmanship and an unmatched expertise with leather. Based out of our main workshop in Madrid, which remains in operation to this day, our master artisans combine their accumulated craft knowledge with new technologies and innovative ways of thinking to produce truly modern objects of desire.
The most recent chapter in our story has been marked by the appointment of Jonathan Anderson as creative director in 2013. Since taking the helm, he has spearheaded a major rejuvenation of the house. Through a fresh redesign of the brand identity, a modern articulation of our commitment to craftsmanship with the launch of platforms like the LOEWE FOUNDATION Craft Prize, and a series of critically acclaimed and genre-defining Women's and Men's collections, the house has been further elevated as an influential and global cultural force.
Our Commitment to Craft
Craft is the essence of LOEWE. As a house we are about craft in the purest sense of the word. This is our where our modernity lies, and it will always be relevant." – Jonathan Anderson, LOEWE creative director. Our story began in Spain in 1846 as a workshop and collective dedicated to leathermaking, and ever since we have valued artisanal techniques in our approach to modern design and refined manufacturing.
Passing down our knowledge and wisdom from one generation of master artisans to the next, our rich legacy of craftsmanship remains the living soul of the house. These core values are reflected in our belief in the importance of craft in today's culture, our modern interpretations of historical artistic achievements and our commitment to supporting contemporary art, craft and culture around the world.
In recent years our devotion to craftsmanship has manifested itself in the production of specialist collaborations, such as the LOEWE Baskets collection for Salone del Mobile, and global platforms, like the internationally acclaimed LOEWE FOUNDATION Craft Prize, ensuring that the house is upholding traditional craft practices whilst simultaneously pushing the frontiers of modern expression.
Jonathan Anderson
Jonathan Anderson is one of the leading designers of his generation, earning both critical acclaim and commercial success with the collections he designs for his eponymous label, JW Anderson, and as creative director of LOEWE.
Anderson attended the London College of Fashion and launched his first Menswear collection in 2008 under the newly created JW Anderson label. In 2010, he expanded into Womenswear and in 2013, after LVMH took a minority stake in his brand, he was named the creative director of LOEWE. Two years later, he made history when he became the first individual to be awarded both Womenswear and Menswear Designer of the Year at the British Fashion Awards. In 2018, he was appointed to LOEWE's Board of Directors.
Outside the world of fashion, Anderson is a dedicated supporter of art and craft. In 2016, he founded the LOEWE FOUNDATION Craft Prize, the world´s first international award for contemporary craft, and in 2017, he curated Disobedient Bodies, an exhibition at The Hepworth Wakefield in England.
How to say our name
Given our Spanish heritage you'd be forgiven for assuming that our name, and the way it's pronounced, derives from Castilian. The true provenance actually traces back to Germany.
The house was originally founded in 1846 by a group of Spanish craftsmen in Madrid as a leathermaking collective. It wasn't until 30 years later in 1872 when the technically gifted leathermaker Enrique Loewe Roessberg arrived from Germany, took the helm and consolidated the operation under a unified banner. He bestowed the company with his name and the brand as we know it today was born.
From this point, the house enjoyed unprecedented acclaim, but it is also when the confusion started. We became a Spanish brand with a German name, and in German "w's" have a "v" sound, so despite the temptation to say it phonetically, the correct pronunciation is in fact "lo-weh-vay". Easy when you know how, tricky when you don't.