LOEWE x Sustainability
At LOEWE, we're combining our long-standing knowledge of craft with new research and technologies to help lessen our impact on the planet. Every day, we explore new sustainable practices in everything from material sourcing to designing, manufacturing, packaging and the building and management of our sites and stores. We're still at the beginning of a journey which gained momentum in 2019 with the launch of our first Eye/LOEWE/Nature collection, that works as a laboratory for more sustainable practices and has enabled us to reduce our overall CO2 emissions by 25%.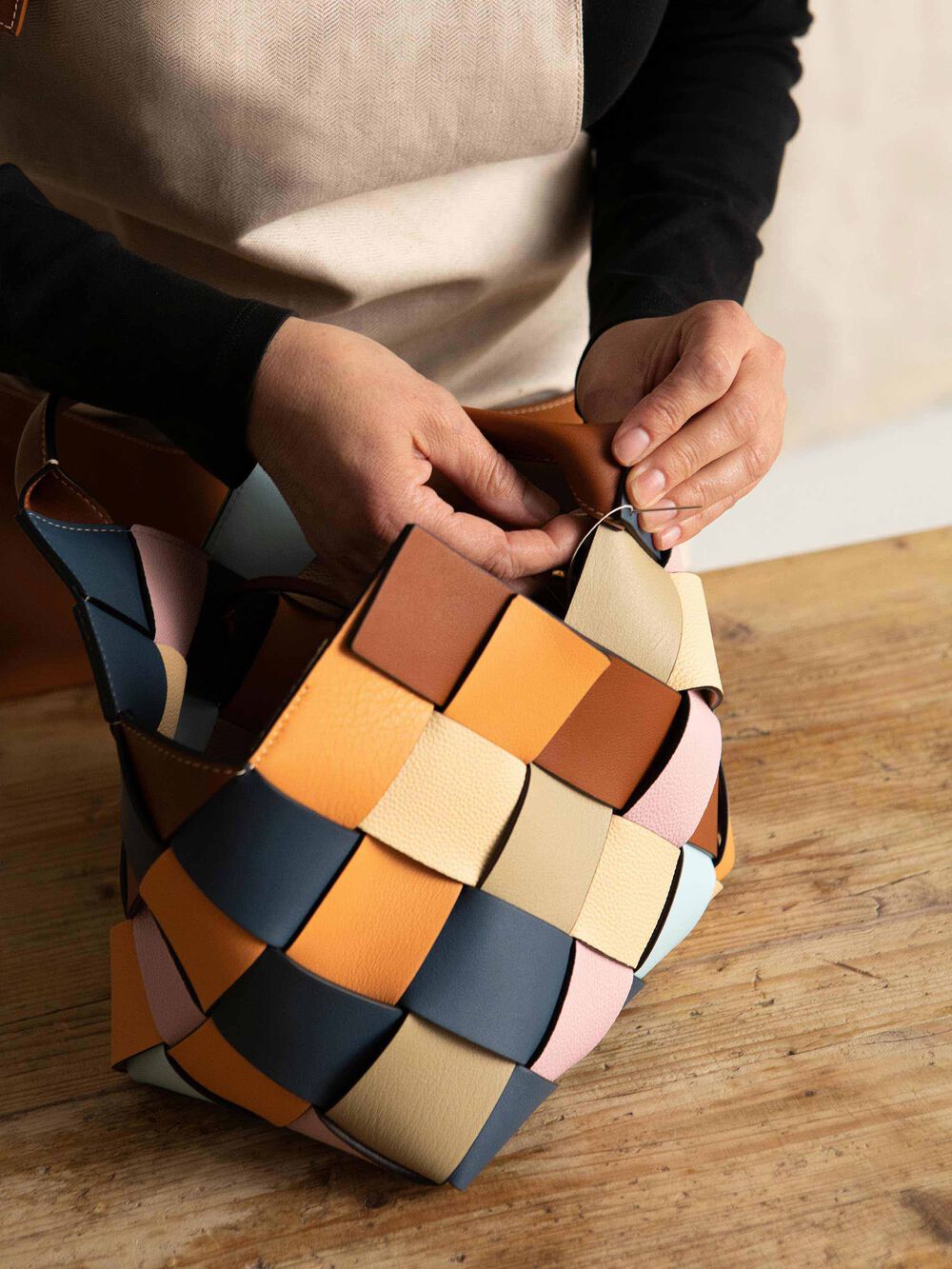 Materials
We work with high quality, low impact materials that are sourced and produced with our planet in mind. Factors such as traceability of origin, fair conditions for farmers, animal welfare and the protection of biodiversity closely inform the way we approach and procure raw materials.
We source our leather from tanneries certified by Leather Working Group (LWG), an international organisation that evaluates the environmental compliance and performance of the leather industry. We're testing a variety of other low impact materials, including recycled and upcycled fabrics, and are also using an increasing amount of organically grown cotton in the products we make, that uses non-toxic pesticides, improves soil quality and saves water.
Launched in 2021, The Surplus Project presents a new way to re-think and re-use the surplus material from previous LOEWE collections in order to create something beautiful with low impact. The project sees two of our most iconic high-quality leathers given a new life as the Woven basket bag, bringing the house a step closer in its journey to becoming more sustainable.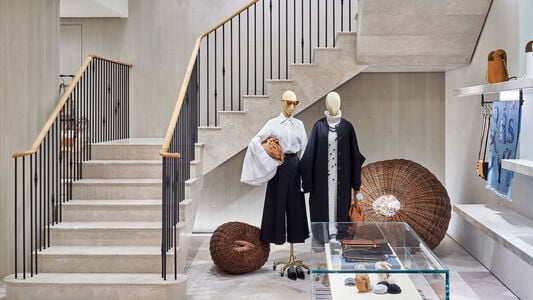 We are working to improve the environmental performance of our stores and workplaces, implementing best practices during construction, renovation and daily operational activities. LOEWE participates in LVMH's Carbon Fund, created in 2015 at the COP21 Conference, which enables us to invest our carbon tax contribution to implement efficiency projects and reduce CO2 emissions across our operations. This is through initiatives such as the implementation of LED lighting, and highly efficient air-conditioning systems.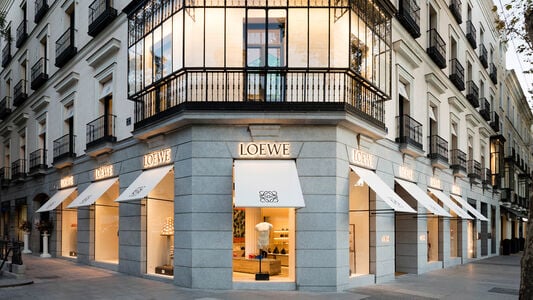 Our flagship CASA LOEWE store in Madrid obtained a LEED Certification for sustainable construction, achieving the highest LEED rating level of Platinum. This certification is given to highly efficient, cost-saving green buildings, and assesses their impact in six categories: Sustainable Sites, Water Efficiency, Energy & Atmosphere, Materials & Resources and Indoor Environmental Quality. It is globally recognised as a symbol of sustainability achievement and leadership.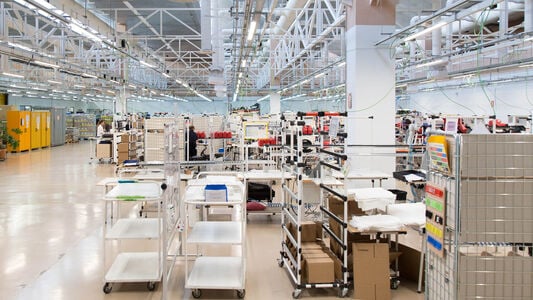 Since 2016, all our industrial sites are certified by the ISO 14001 Environmental Management System. This voluntary international standard specifies requirements for companies to manage environmental aspects, fulfil compliance obligations, and address risks and opportunities. This enables us to measure and reduce environmental impacts of manufacturing LOEWE products, covering different aspects including chemical use, water use, water emissions, energy use, greenhouse gases (GHGs), and waste. We began 2021 having reached our goal of improving our environmental performance across industrial sites by 10% from implementing best practices, reducing waste generation and energy and water consumption.
Manufacturing processes
We work with likeminded suppliers who are environmentally and socially conscious, and who strive to limit their environmental impact. In practical terms, this means complying with the applicable legal and environmental regulations, from actively seeking to improve the performance of our products, to taking clear steps to reduce CO2 emissions in the manufacturing process. We perform regular audits across our supply chain to ensure these commitments are being met — including SMETA audits (Sedex Members Ethical Trade Audit), one of the most widely used ethical audit formats in the world.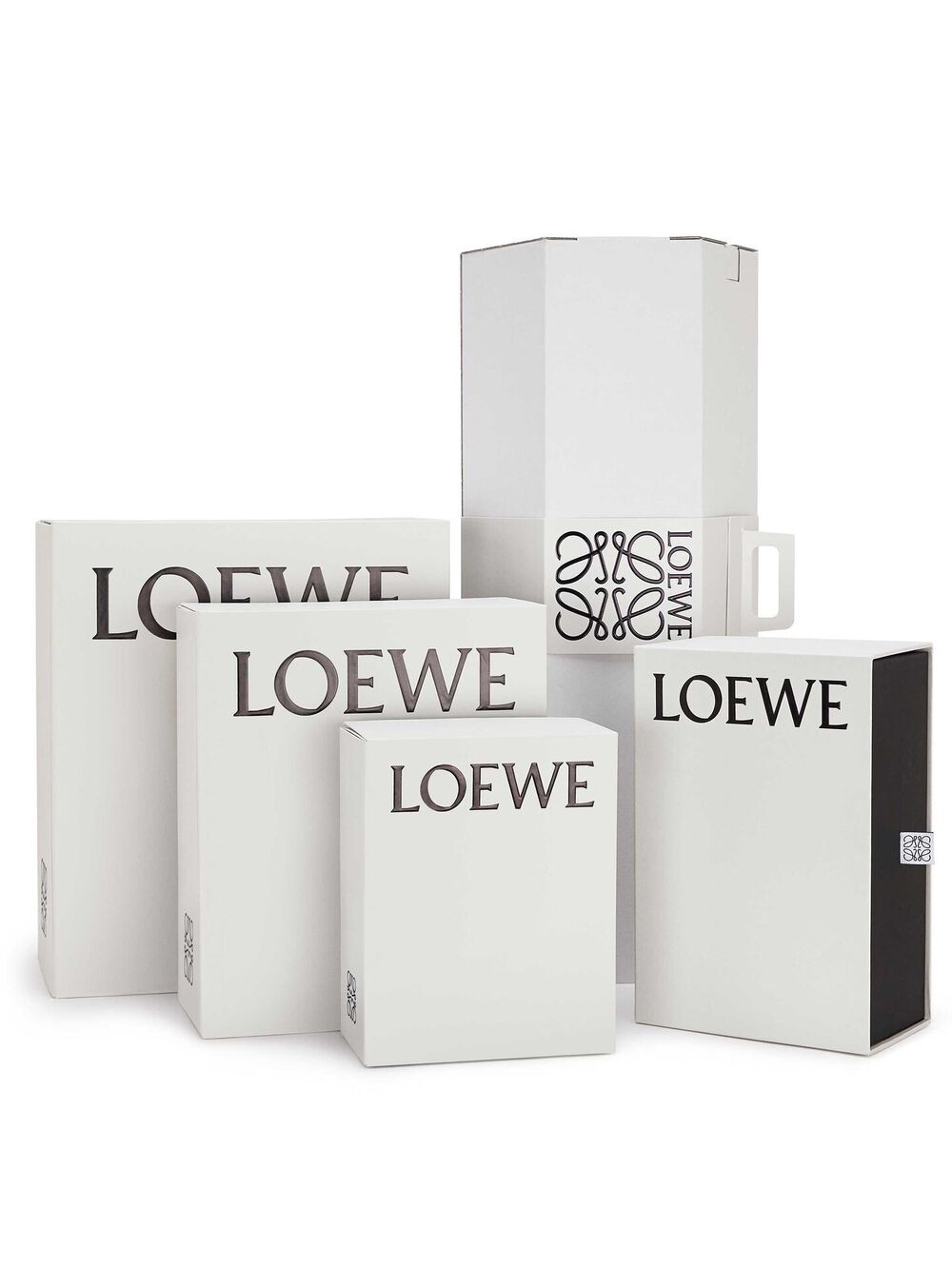 Packaging
Every day, we're taking steps to reduce the environmental impact of the packaging we use. Current measures include using low impact packaging materials, the reduction of excess packing, the use of foldable shoe boxes, the implementation of circular economy systems and the optimisation of space during transportation.
The paper in our shopping bags and final customer boxes comes from Forest Stewardship Council (FSC) certified forests, considered to be the gold standard in responsibly managed wood harvesting. We use recycled cotton in our felt bags, and we're continually looking to reduce, minimise and optimise our packaging materials.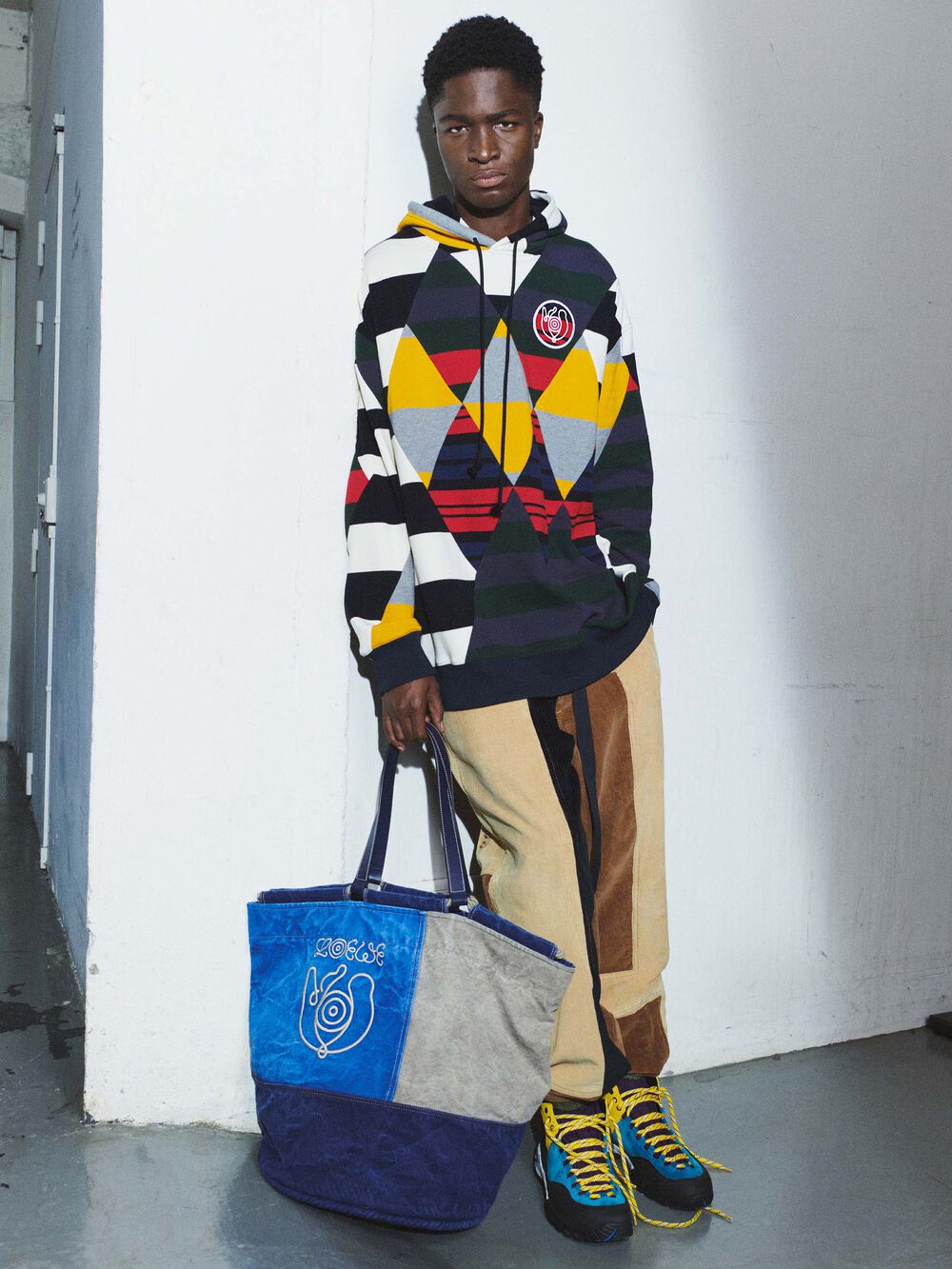 Eye/LOEWE/Nature
The permanent collection of menswear is inspired by the great outdoors and focuses on sustainability in three main areas: material used, manufacturing processes and transparency of vendors. It features a range of functional essentials in low-impact performance fabrics.
The latest collection reassesses process, materials and the entire notion of craft with a playful practicality and timeless connection to nature. Key pieces are crafted from materials and items with a past life, including jackets crafted from vintage Mexican carpets, quilts and parachutes, and a new line of roll top backpacks and camera bags made from super lightweight recycled nylon.
Since 2019, we have donated €15 to environmental causes from every Eye/LOEWE/Nature sale.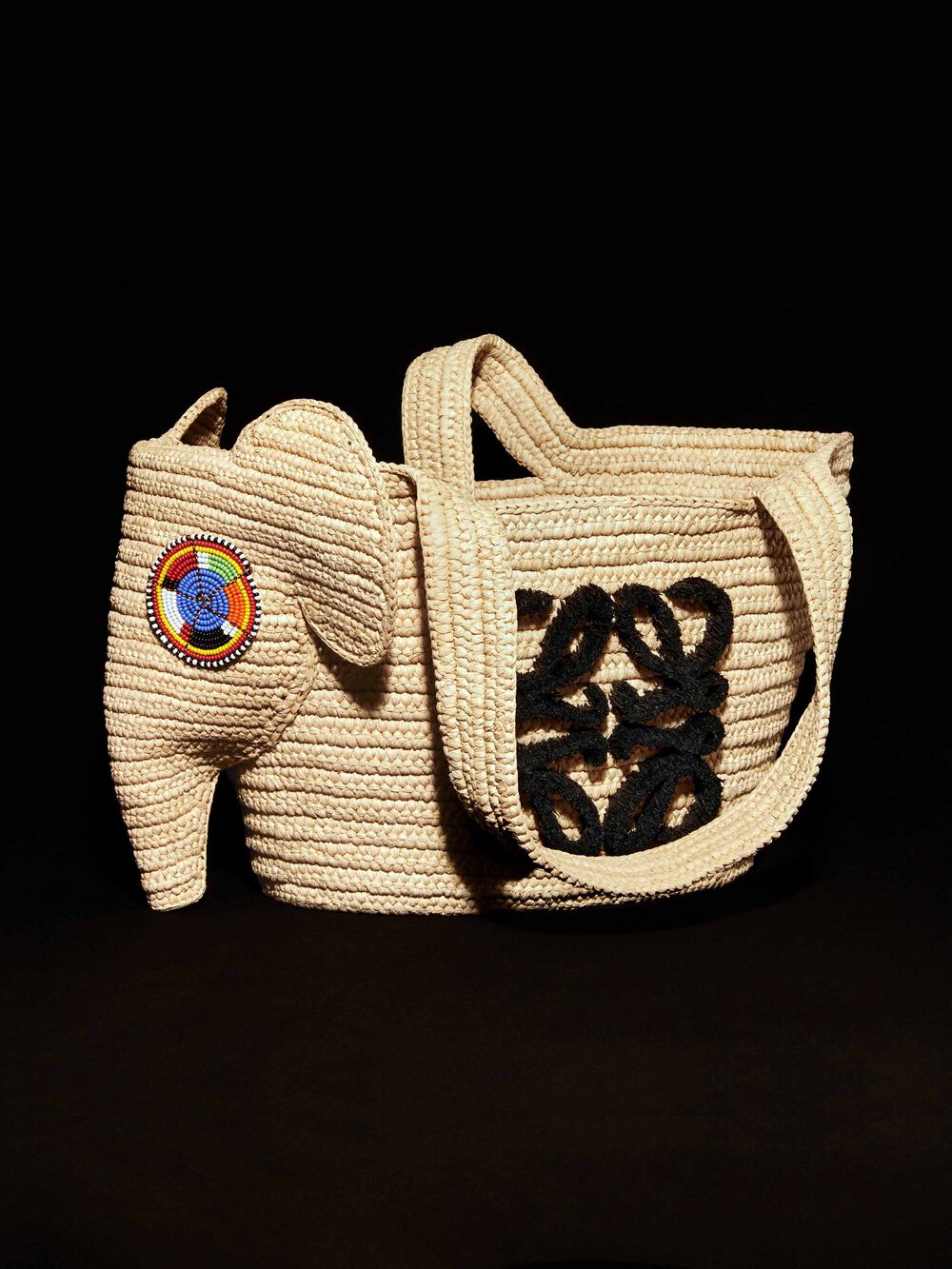 Knot On My Planet
Launched in 2018, our annual collaboration with the Knot On My Planet campaign is part of our ongoing commitment to helping provide a more secure future for elephants. We are donating proceeds of sales from a series of limited-edition mini Elephant bags to this cause, featuring handmade details by the Samburu women of Northern Kenya.
Knot On My Planet unites with the Elephant Crisis Fund to help provide a secure future for elephants by forging partnerships with fashion and luxury brands. Every single dollar donated goes directly to projects on the ground, to help end the ivory crisis. The campaign is a nod to the adage that tying a knot ensures you remember, and that "an elephant never forgets".
LIFE program
LOEWE´s sustainability strategy encompasses the initiative of LIFE program (LVMH Initiatives for the Environment) which sets goals to elevate environmental performance.