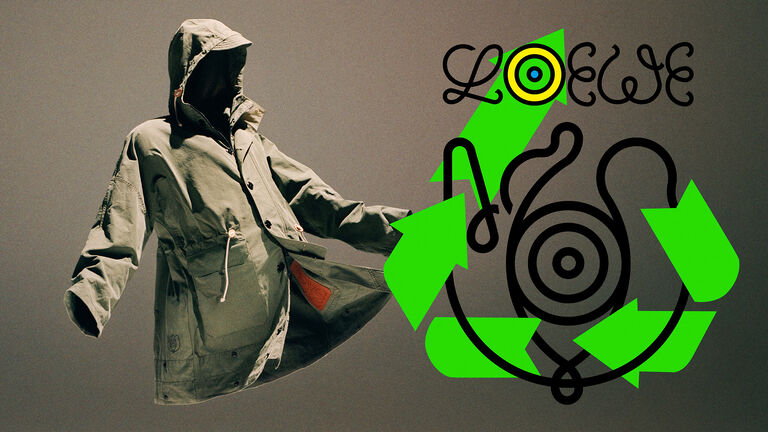 Eye/LOEWE/Nature FW20
The collection is guided by an upcycling ethos, using repurposed products - such as military tents and vintage garments - to create bags, technical parkas, patch-pocket hooded shirts, cargo shorts and hiking boots.
For every Eye/LOEWE/Nature product sold, LOEWE will donate 15 euros to environmental causes.

The process of repurposing something that has already had a life – harnessing the transformative power of craft and creativity to minimise our impact on the environment and reinforce our positive connection with nature.
The Eye/LOEWE/Nature parkas are crafted from upcycled vintage army camouflage jackets in various sizes, each with their own unique provenance.
Stitching the panels together, accommodating each individual characteristic of the upcycled piece while retaining the design's integrity, requires a high level of skill. Patterns vary depending on the original items, so every upcycled Eye/LOEWE/Nature product is unique.
Ready-to-wear
Ready-to-wear is shaped by military inspiration, expressed in camouflage motifs and shapes including parkas, patch-pocket hooded shirts, cargo shorts and trousers, crafted in upcycled materials from military tents to vintage flannels.
The accessories
Bags and accessories convey the collection's upcycled ethos, with a convertible bag crafted out of camouflage army jackets, and a limited edition tote made from vintage fleece.
Our suggestions
Explore our selection of items from the collection.